The qualities of the mind are like those of a stainless sphere of crystal
Its essence is empty, its nature is luminous,
And its expressive quality is vivid, beyond limitation.
Without being tainted by the defects of samsara even in the slightest,
The mind itself is surely the enlightened state since the very beginning.
~Shabkar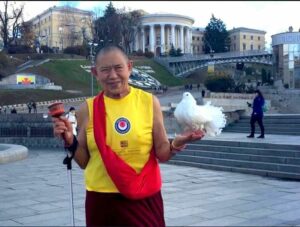 As of May 1, 2022, White Lotus has sent more than $65,000 to our Dharma brothers and sisters in Ukraine. Thank you to all who donated!
Maryna wrote recently that sangha members are beginning to return to Kyiv. But, now the problem is they no longer have jobs to return to. Continuing donations will help these people buy food until they can once again find jobs. 
If you would like to continue to provide vital help to our dharma brothers and sisters, please donate 
here through White Lotus: 
OR, directly to the PayPal account of the director of Garchen Ratnashri, Ukraine: Maryna Semenyuk: maryna.semenyuk@gmail.com.
Dear dharma brothers and sisters, we are very grateful for your prayers and support!
With the help of the White Lotus Buddhist Center that organized fund rising and thanks to the international sangha members, who made donations, our center has received some funds. This kind support enabled us to provide immediate help to Garchen Ratnashri Ukraine sangha members who suffered directly from horrors of this dreadful war. H.E. Garchen Rinpoche is aware that Lama Dawa Zangmo is in regular contact with most of our sangha members assessing their circumstances. We make sure that donations are distributed right away based on our sangha members' immediate needs.
Recently PayPal has enabled people in Ukraine to receive funds and seamlessly transfer them to Ukrainian bank accounts. Our center decided to use PayPal for collecting donations with which we will continue supporting Garchen Ratnashri Ukraine sangha members.
May peace prevail swiftly
Click here to input your recitations:
of the mantra OM MUNI MUNI MAHAMUNIYE SOHA
of the KING OF ASPIRATION PRAYERS
White Lotus Buddhist Center is located at 815 Park Ave, 2nd floor of Immanuel Baptist Church, Rochester NY 14607
Mailing address:  P.O. Box 10384, Rochester NY 14610