White Lotus Resident Lama
Khenpo Konchok Molam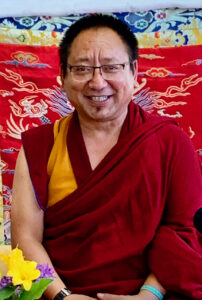 Khenpo Konchok Molam arrived at White Lotus Buddhist Center at the Sangha's invitation in January 2017. He began a challenging job of teaching to Westerners, learning English and adapting to new food and the wild ways of a lay Western sangha! Since then, many within the sangha have grown fond of Khenpo and our respect for his skillfulness in relating to people, as well his immense knowledge of Buddha Dharma makes us very grateful for his presence.
Venerable Khenpo Konchok Molam was born to a nomad family in the Nakchu region of central Tibet in 1973. He eventually made his way across the Himalayas and entered the Drikung Kagyu Institute in Dehradun, India, at the age of 13, becoming a monk. There, he trained in the basic sacred knowledge of Buddhism for six years and then took the vows of a fully ordained monk, or Gelong vows, from HH the Drikung Kyabgon Chetsang.
Khenpo was then accepted to Kagyu College, where the chosen monks continue their study of the higher philosophical texts of Buddhism. He completed the rigorous nine-year curriculum, gaining confidence in the view through study and debate. Upon "graduation" in 2006 he was awarded the Acharya certificate and began teaching at Kagyu College. He continued to attend various seminars on Tibetan Grammar and Buddhist philosophy at Sera College, Dharamsala. He also composed Tibetan books on Buddhist philosophy at Kagyu College especially for the younger monks.
In 2009 he was awarded the title of Khenpo and began visiting dharma centers in Singapore, Malaysia, Taiwan and Germany to share his immense Dharma knowledge.  Khenpo also served as the Drikung Kagyu's representative to the Tibetan government's Department of Religion, attending meetings in Dharamsala, India, with HH the 14th Dalai Lama and representatives from the other lineages.
Khenpo is a master of Tibetan grammar and is still called upon to edit publications and texts for the Drikung Institute.
Thorough and serious in his teaching, Khenpo Molam is fun and light-hearted in his relationship with the sangha, a precious treasure for our center!
Heart Lama to the White Lotus Sangha
His Eminence Garchen Rinpoche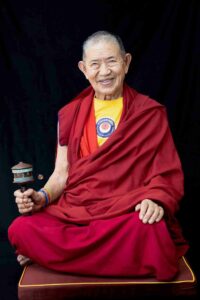 His Eminence Garchen Rinpoche is one of the foremost Buddhist masters and accomplished Tibetan Lamas alive in this world today. His compassion, love, wisdom, and spiritual accomplishments are legendary. He is one of the highest  Lamas of the Drikung Kagyu Lineage of Tibetan Buddhism and is revered and respected by all the different lineages of Buddhism, and beloved in numerous countries across various continents all over the world. His disciples number in the tens of thousands and his dharma activities pervade everywhere. He is truly a living example of an authentic enlightened being and a great Bodhisattva. Famous throughout the world for his vast realization and great kindness, Rinpoche is truly a wish fulfilling gem, and one of the greatest authentic spiritual masters in the world. For more on Garchen Rinpoche: https://garchen.net/our-spiritual-director/
White Lotus Buddhist Center Director
Frank Howard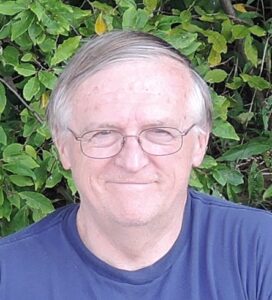 Frank Howard has for years been giving Dharma Talks and guiding practice at White Lotus. First learning to meditate at the Rochester Zen Center under the guidance of Roshi Philip Kapleau in the 1970's, he is widely read in Buddhism. Frank has had the good fortune to study and practice since the mid 1980's under many great masters including Lama Tharchin Rinpoche of the Dudjom lineage of the Nyingma; and since 1997 with H.E. Garchen Rinpoche and other Drikung Kagyu teachers. 
Frank has a gift for explaining various Dharma topics in ways a Western audience can relate to and come to an understanding. Frank assists Khenpo Molam in his teaching as a "lotsawa" bridging Khenpo's terminology and cultural references.
An attorney practicing in Rochester, Frank has a friendly approachable manner.  We are lucky to have him part of White Lotus Buddhist Center.
Visiting Teacher
Lama Dawa Zangmo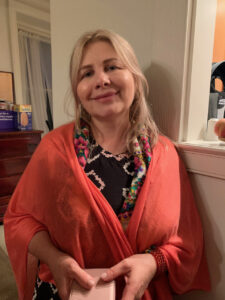 Lama Dawa Zangmo successfully completed the first traditional three year retreat under the direction of H.E. Garchen Rinpoche in Arizona. She continued her retreat for a fourth year in order to stabilize her meditation and clarify her understanding after which Garchen Rinpoche named her a Lama and asked her to teach to his sangha. She is the head of his sangha in Ukraine and resides in Toronto. Lama Dawa (or Zhuravka as many students know her by), teaches in English, is very approachable, uses discussion and Q & A in her teaching and knows the Western "pitfalls" of practice very well.