About White Lotus Buddhist Center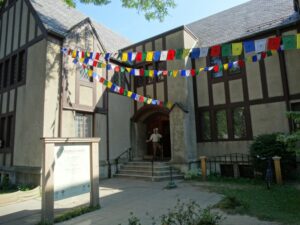 White Lotus Buddhist Center is dedicated to the transmission of Buddha's teachings and realization to America and is committed to the support of those who seek to walk the Path together. This effort involves individuals gaining the confidence to commit to ongoing study, critical analysis – pounding the teachings as gold would be hammered in ancient India to prove its purity – and applying the teachings to the training of the mind. We practice in the tradition of the Drikung Kagyu lineage of Tibet.
Our center, located in Rochester, New York offers weekly lectures on Tibetan Buddhism and meditation practice in a warm and friendly environment. The highlights of each year are programs by visiting Tibetan Lamas who teach on Buddhism, lead meditation retreats, and meet one on one with interested practitioners.
White Lotus Buddhist Center is dedicated to the preservation of Tibetan culture as an invaluable resource for Americans. As such, we provide speakers to school groups and others interested in learning about Himalayan cultures and/or Buddhism.
We invite you to visit. Sunday mornings are a good place to start. Everyone is welcome! We are currently meeting at 815 Park Ave, Rochester, NY (on the 2nd floor of Immanuel Baptist Church. Use the Park Ave entrance.
CONTACT US
PO Box 10384
Rochester NY 14610-0384
Email: info@whitelotusdharma.org
Location:
815 Park Ave. (2nd floor)
Rochester NY 14607