White Lotus Building Fund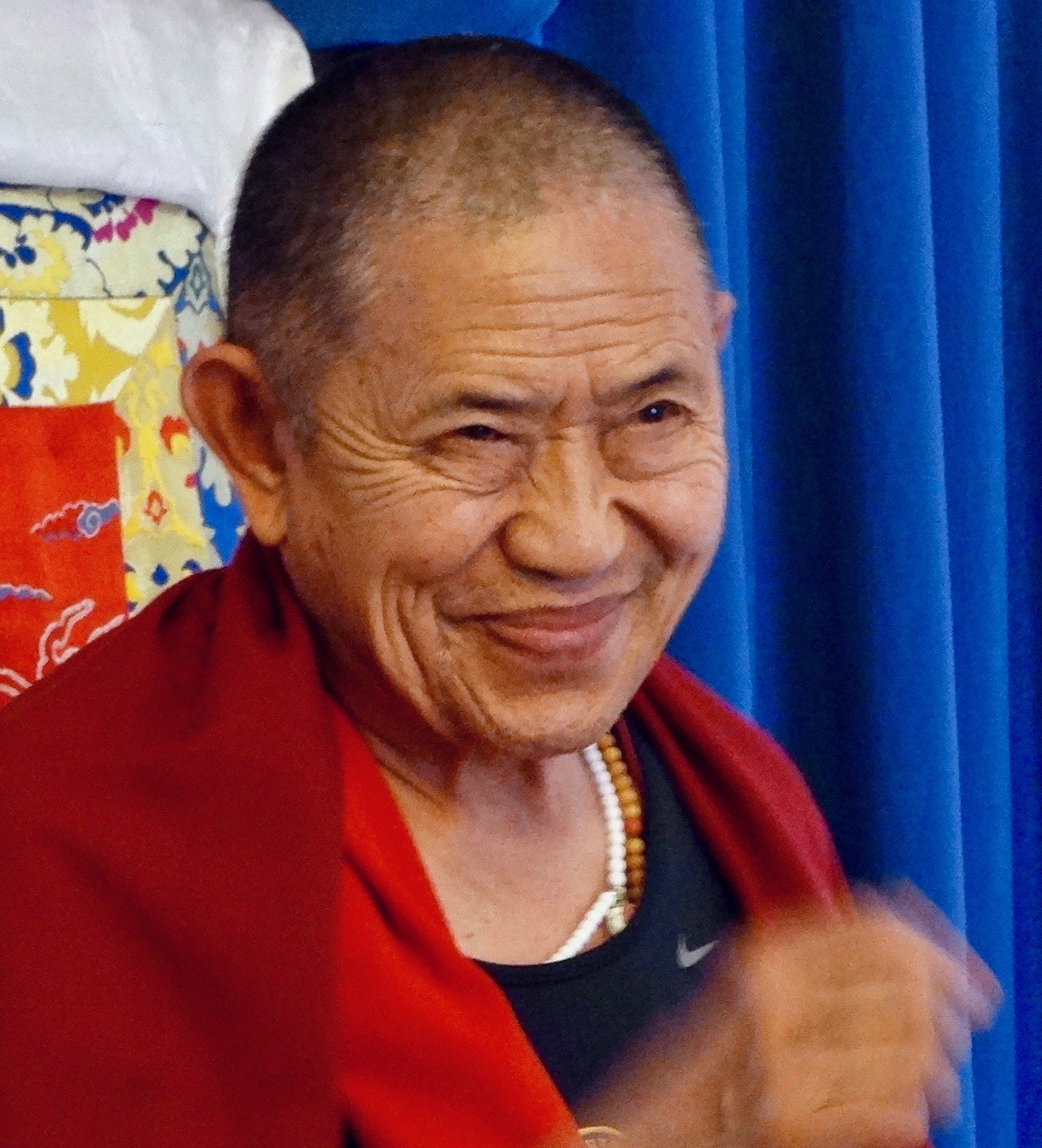 Letter from Garchen Rinpoche – English translation: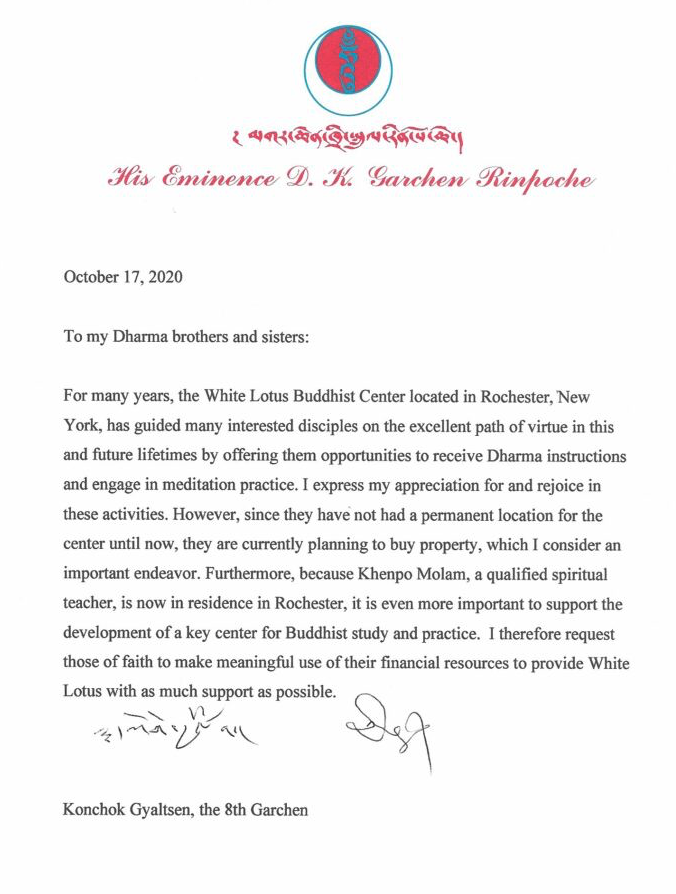 White Lotus Building Fund
With the goal of purchasing a building to house the Dharma Center and provide a residence for our Resident Lama, a Building Fund was established in 2019. This goal took on an increased urgency when, on October 29, 2020, a fire broke out in the church in which we rent space. The deadly fire spread toxic smoke residue throughout the building, including our temple, shutting us down and forcing us to move our precious statues, thangkas and other items to storage and meet via the internet. 
Merit is the positive force of the mind and is the cause of insight into the nature of mind.  The merit of building a stable center is inconceivable.  The creation, support and participation in a dharma center is perhaps the easiest way to accumulate merit – because you plug into the meritorious activities of many people and through those activities you benefit many, unseen others.
June 2023: The Building Fund now stands at $104,000.  
Read more . . . a bit of history
As Khenpo Molam has taught, the Dharma center is the source of our happiness. A stable Dharma center provides a place where we can hear the teachings and practice together, support each other and develop a healthy, loving community. When we build a strong Dharma center, it is not just for this life, not just for ourselves but for those who come after us as well – teachers and students alike.
In 2011, White Lotus rented space on the second floor of an historic stone church in Rochester – a beautiful, spacious room filled with windows of leaded glass detailing and lots of light.  We were thrilled to find such a lovely place and planned to be there for about five years while we put our roots down, grew the sangha and became a stable, thriving Dharma Center.
In 2017 Khenpo Konchok Molam came, at our invitation, to teach and guide members of White Lotus Buddhist Center. He is now a Permanent Resident of the U.S. and we are delighted he plans to stay in Rochester. Khenpo has been living with different sangha members for the past four years and we thank them for their generosity.
Now it is time to find a permanent, stable home for White Lotus Buddhist Center and Khenpo Konchok Molam as well.  With that in mind, last year the Trustees established a Building Fund with initial funding of  $50,000 and a goal of $200,000.
With Khenpo living at the Center itself, White Lotus will be able to add early morning meditation sessions in addition to our regular practice sessions, provide a room where people may do short, individual retreats with the support of the Lama, and more easily meet with Khenpo from time to time.
Garchen Rinpoche's letter - Chinese Translation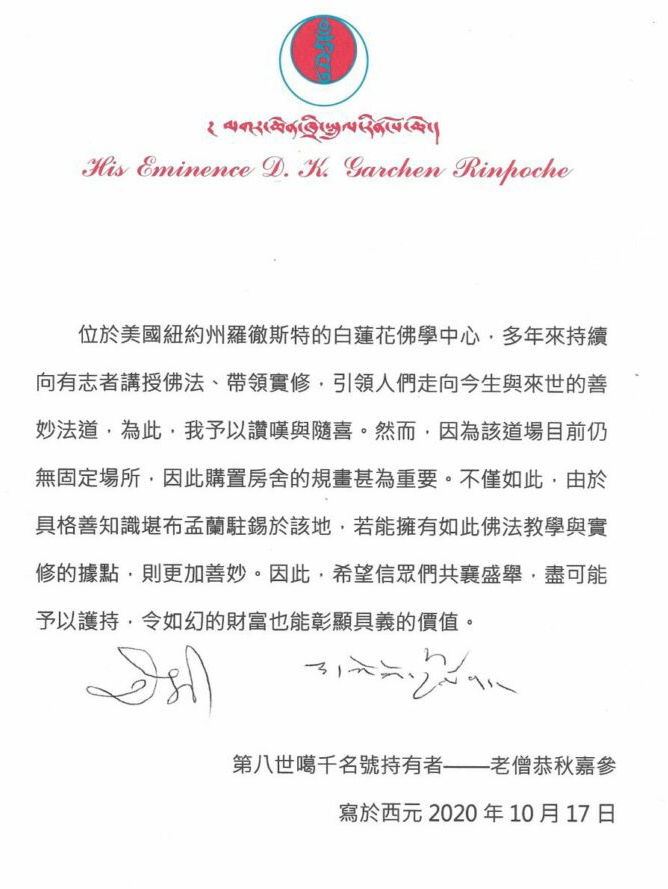 Garchen Rinpoche's letter - Tibetan original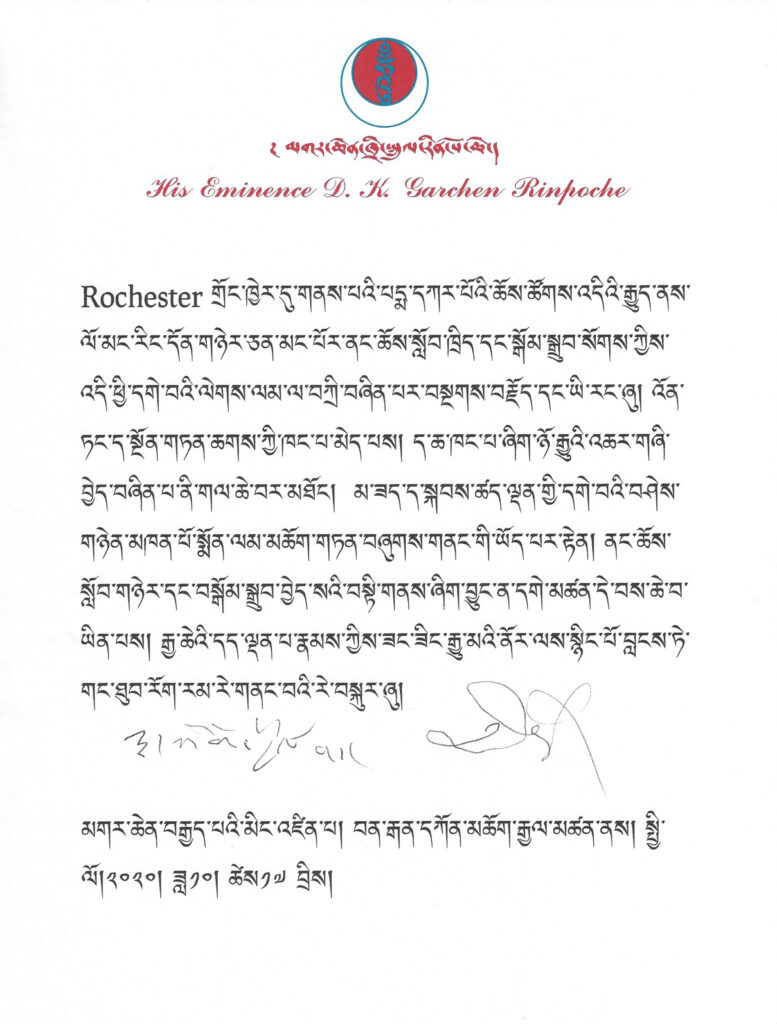 By check or money order:
Make check to the order of White Lotus Buddhist Center
(in the memo please note the Building Fund)
Mail to White Lotus Buddhist Center, P.O. Box 10384, Rochester, NY 14610
By international bank transfer:
Bank: Advantage Federal Credit Union
70 Metro Park, Rochester NY 14623
Phone: 1-585-454-5900
Acct name: White Lotus Buddhist Center
Acct #:  927631
Routing #: 222382292
Swift Code: AFCUUS33