All Sessions are now in person or via Zoom.
Sundays in December: 
10:00 am – 12:00 pm  
12/4: 10:00 am Prayers and Meditation  /  11:15am Annual Corporate Meeting
12/11: Prayers, Dharma Talk (Frank Howard) followed by Meditation
12/18: Prayers, Dharma Talk (Khenpo Konchok Molam will continue his discussion about the Five Paths of Accumulation)
12/25: Christmas Day – Dharma Center closed                    
(Zoom: https://us02web.zoom.us/j/83911389863)
Other events in December, 2022 –

 
7:00 pm – 8:30 pm
12/6   White Tara
12/13  Vajrakilaya
12/20  White Tara
12/22  Protector Practice: Achi Chokyi Drolma & Mahakala / Zoom: https://us02web.zoom.us/j/4309409550
Vajrakilaya:  for the Zoom link, contact info@whitelotusdharma.org.
White Tara:  Zoom: https://us02web.zoom.us/j/82125999963
Saturday December 31: 7:00 pm-9:00 pm  Vajrasattva Practice, the Great Purification
Sunday January 1: 8:00 am-9:00 am First Light Offerings and Prayers for World Peace, refreshments follow

Now you can donate to White Lotus while shopping on Amazon! Choose White Lotus Buddhist Center as your charity when shopping:
Wishing everyone a happy holiday – and a peaceful, prosperous New Year!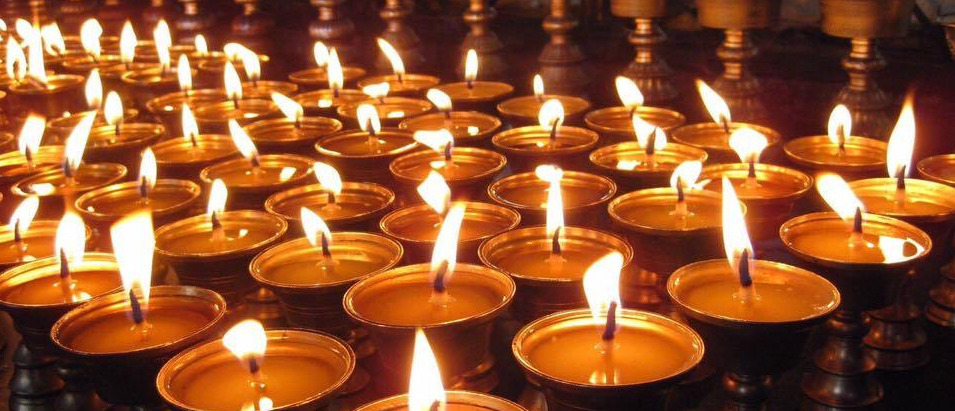 End of the year events at White Lotus:
Saturday, December 31:  7:00-8:30 PM  Vajrasattva Practice. The great Purification practice of Vajrayana Buddhism. At the end of the old year, we confess our negative thoughts, words, and deeds and promise to never repeat them – thus, we begin the New Year with a pure body and mind.  
Sunday, January 1, 2023: 8:00-9:00 AM  Light Offering & Prayers of Auspiciousness  Join us in welcoming the New Year with a light offering and auspicious prayers for the benefit of all. Open to all. A light refreshment will be shared after the prayers. 
Join us in person or via Zoom: https://us02web.zoom.us/j/4309409550
If you attend via Zoom, links to the prayers we are using are available on the website at: https://www.whitelotusdharma.org/schedule-events/