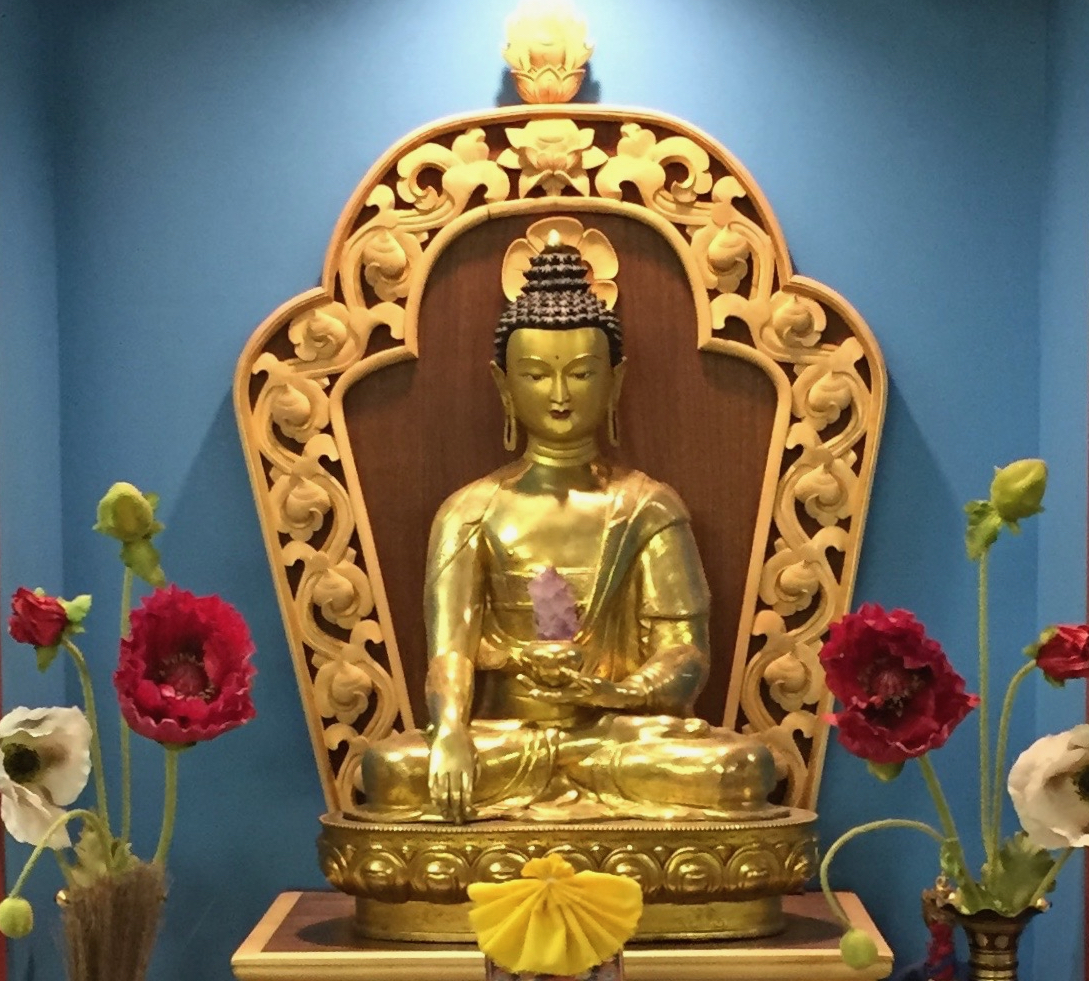 Sundays in April & May
Prayers, Dharma Talk and Meditation
10:00 – 11:30AM Prayers, Dharma Talk, and Meditation with Frank Howard. Facebook Livestream. https://www.facebook.com/WhiteLotusBuddhistCenter
Khenpo Konchok Molam will join us for the practice after the Dharma Talk and answer questions from those present. This part is not live-streamed.
Tuesdays in April & May 
In person or join via Zoom (until further notice): https://us02web.zoom.us/j/82125999963
7:00-7:30 PM Khenpo Molam teaches on The Precious Garland of the Sublime Path by Gampopa
7:30-8:30 PM White Tara Practice
Thursday, May 20: Coffee with Khenpo!
7:00 – 8:00 PM  Topic: Karma (cont. from April)
At Khenpo Molam's residence: 2350 Highland Ave and via Zoom: https://us02web.zoom.us/j/4309409550
Bring your questions (written down preferably) and own beverage and engage in informal discussion with Khenpo and your Dharma brothers and sisters.

Now you can donate to White Lotus while shopping on Amazon! Choose White Lotus Buddhist Center as your charity when shopping:
White Lotus Annual Yard Sale – June 11, 12
This year the Annual Yard Sale will be held at Khenpo Molam's residence, 2350 Highland Ave, Rochester.  Open from 9:00 AM – 6:00 PM each day.
We are looking for donations of ready-to-sell items (ie. clean and not broken) – kitchen items, furniture, toys, tools, sporting goods, camping gear etc. 
If you would like to donate, please send an email to: info@whitelotusdharma.org.
Thank you and please spread the word to your friends and families – to donate and/or come and shop! All proceeds will benefit the White Lotus Building Fund.
White Lotus is Open Again!
Clean up from the fire is complete now and White Lotus Buddhist Center is open once again. Check the schedule of activities elsewhere on this page. When you come, please wear a mask until seated and bring your own beverage in a spill-proof thermos or cup.
Activities will still be live-streamed or available via Zoom for those not yet ready to return to group activities. Please see links at each activity description.
Looking forward to seeing you in person whenever you feel comfortable!
The White Lotus Building Fund
With a goal of establishing a Dharma Center accessible to all and with permanent accommodations for Resident Lama, Khenpo Konchok Molam, White Lotus is requesting the help of everyone committed to planting the Dharma in the West to contribute as they can.
H.E. Garchen Rinpoche has requested, in a letter posted HERE, "those of faith to make meaningful use of their financial resources to provide White Lotus with as much support as possible."
Dzambhala Prosperity Vases – Blessed by H.E. Garchen Rinpoche at White Lotus in 2018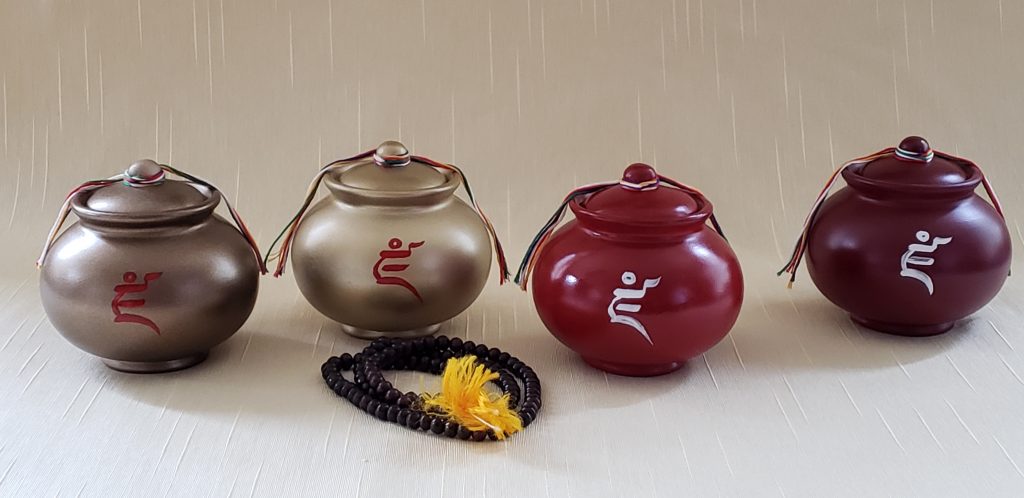 These vases were filled according to traditional instructions by Khenpo Konchok Molam and White Lotus sangha members. They contain many preicous substances, were consecrated over two days at White Lotus Buddhist Center, then blessed by H.E. Garchen Rinpoche when he visited in 2018.
Every purchase is a donation to benefit White Lotus Buddhist Center and its work. Thank you!
Read H.E Garchen Rinpoche's teaching on treasure vases:
So, now Khen Rinpoche (Khenpo Monlam) has prepared these prosperity vases for the Center. This is a really wonderful thing as they bring a lot of benefit, a lot of blessings.
There are three ways to understand what a prosperity vase is. First, it is a palace for the deity. Then secondly, it becomes the deity itself. And thirdly, it is an offering. It is a source of infinite offering goddesses who come and present whatever offerings are needed or wished for. These three qualities are shared by both vases and stupas. In addition, they have been consecrated according to Dzambhala and are embued with blessings from the deity. Having one of these vases in your home, you can play the Dzambhala mantra day and night. The vase will bring blessings both to the beings in your home and the outer environment. So it's a really wonderful thing to have a vase like this.
When we talk about Dzambhala and wealth practices, basically we're saying that we need love because the world can be full of material wealth and yet without love there's no happiness. So, when we say prosperity or good fortune, what we're talking about is love because that's what brings happiness. Otherwise, without love you can have a hundred million dollars and just be a hungry ghost.
Please include a message (or send via info@whitelotusdharma.org) with your choice of color and to which address it should be sent. Thank you. Your support is appreciated. 
$140 includes shipping within the U.S.